Rivers Rubicon Runs
Trip Application and Release of Liability Form
Find your destination easily with Google Maps

Trinity River
by permission and special permit from USDA,Shasta Trinity National Forest

The Pigeon Point run of the Trinity river is a fun Class II-III day trip that follows Highway 299 in a forested canyon. This is a great intermediate rafting run with a few challenging rapids in the mix.
The first few miles include several Class II and III rapids including Z Drop, a technical rapid that requires some tight maneuvering. The highlight of the trip is Hell Hole Rapid, which is a vertical drop into a hole at lower flows and a huge hole at higher flows. Below here are the Class III rapids Sailor's Bar, Triple Drop, and Fish Tail. This is a great run for family's, church and youth groups. We stay at Big Foot Campground in Junction City http://www.bigfootrvcabins.com

Cache Creek

Cache Creek winds through the Blue Ridge Mountains north of Lake Berryessa in Lake and Yolo counties, about two hours from San Francisco, and is considerably easier to get to than popular spots on the American, Klamath or Merced rivers. It's been a rafting destination for decades, attracting first- timers and experienced boaters with its scenery, warm water, easy access, reliable flows and range of rides, from lulling, placid stretches to two Class III rapids. This is an excellent beginner run.
Rubicon Adventures is the only company offering guided whitewater trips on Cache Creek.
The area has something for everyone. This trip can be combined with a restful overnight stay at Harbin Hot Springs or visit the gaming resort of Cache Creek Casino


Main Eel River
Starting on the Middle Fork near Dos Rios we soon join the Main and are set for a spectacular 46 mile run to Alderpoint, the railroad our only companion. Great sandy beaches for campsites and warm waters in May invite swimmers. Mild whitewater makes this a fine introduction to paddle rafting and overnight camping. Trip takes 4 days. Can be combined with the Middle Fork for a 6 day wilderness adventure.
South Fork American River (associate outfitter)
In the heart of the Gold Country near historic Coloma, the American River features two fine class III paddle runs. The Chili Bar (Nugget) to Lotus starts off with the formidable "Meatgrinder" and ends with the infamous "Troublemaker". The Gorge is a scenic run ending with over three miles of nearly continuous whitewater. We have an overnight campsite on the river at Camp Lotus (by permission of El Dorado County).

All Government fees are included in prices. The Land Use Fee goes to the following agencies: California State Parks, El Dorado County, Bureau of Land Management and the US Forest Service.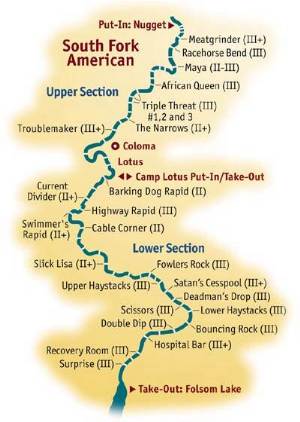 Accommodations
Find affordable Lodgingto accommodate your Rubicon adventure plans.
Additional Information and Directions
SOUTH FORK AMERICAN RIVER DIRECTIONS
NUGGET: Our meeting spot. Take 50 to Placerville (from Sacramento). Turn left on 49 which is the second stop sign. Go approximately 1 mile to 193 turn right and go down the hill approximately 3 miles to the river and turn right. The Nugget put in is approximately 1/4 mile on the right. Meet here before 10:30 am. Note: this is a private put in with specific parking areas. Let them know you are with Rubicon.
CAMP LOTUS: Take 50 to Ponderosa Road, Shingle Springs (exit 37) off ramp (approximately 8 miles west of Placerville). Turn left, go across freeway and turn right, follow the freeway approximately 1/4 mile and veer north. After approximately 4 miles, keep to the left at the Y. After another 6 miles, look for Bassi Rd. on the left. Trade marks are a big red school house on the left and a fish eye mirror on the right and first stop sign past the Y. If you drive by the River Store, you went to far. Camp Lotus is one mile down Bassi road on the right. If you camp at Lotus Friday night and are going to Nugget put-in--Go out to Lotus rd. turn left. Approximately 2 miles to 49 and turn right. Drive through Coloma to 193 (approx 8 miles) left approx. 3 miles to river rt. turn 1/4 mile to Nugget. Camp Lotus Website
NOTICE: The South Fork American River in its natural state would not normally have sufficient flows during the summer season to support rafting or other floating activities as it is known today. Adequate flows for rafting result from releases from hydroelectric facilities located at Chili Bar and above. Such releases are made when necessary for power generation and are not the subject to the control of the County of El Dorado, or commercial rafting companies operating under permits from the County of El Dorado.

GENERAL INFORMATION
Check the "what to bring" list in your brochure. Leave jewelry at home (especially rings). Day trips you will need to wear shorts or cutoffs, tennis shoes or sandals, bring a windbreaker and water bottle. SUN BLOCK. In all overnights do not forget to bring your knife plate fork spoon and cup. For environmental reasons we try to use as few disposable items as possible. A plastic or sierra type cup is all that is necessary on day trips. Because of strict insurance requirements and general safety reasons we cannot allow the consumption of alcoholic beverages on the river. Nor do we provide alcoholic beverages (except wine at dinner). In other words BYOB. Be sure you read and understand the RESERVATIONS and CANCELLATION policy in your brochure. DOGS ARE NOT ALLOWED AT CAMP LOTUS or NUGGET, DO NOT BRING A DOG ON YOUR RIVER TRIP. If you have any questions be sure to call us any time.
Rubicon specializes in river trips to meet your groups needs. Some options include: wine tasting/gourmet trips, family trips where kids go 1/2 price, corporate and business groups where we work on "team building" skills and theme trips.
GRATUITIES: Rubicon guides are well compensated and do not expect tips. However, it is customary in this industry to give gratuities, especially if you feel your guide has contributed substantially towards making your trip exceptional. DON'T FORGET SUN BLOCK!
Exhibit L - State Parks Waiver State Park liability release.pdf
Rubicon Adventures is a Non-Discrimination and Harassment Free Workplace
In accordance with Federal law and US Department of Agriculture Rubicon Adventures does not discriminate on the basis of race, color, national origin, gender, sexual orientation, age or disability.
---
E-mail us for questions, requests, or to get on our mailing list:

rubicon@sonic.net

Bill and Stephanie Mashek
707-887-2452
9743 Highway 116
Forestville Ca, 95436